We're Hiring!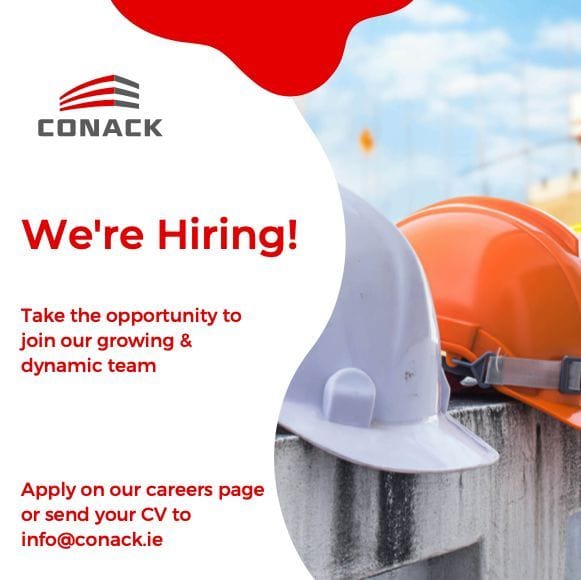 We're Hiring! Why not take the opportunity to join our growing and dynamic team. We are looking for a Planner for the Dublin Region and also an Estimator for our Limerick Office. Apply via our careers page on our website www.conack.ie or email your CV to info@conack.ie.
Estimator:
You will have several year's experience in Ireland and / or the UK as an Estimator or QS, working with a recognised main contractor / large sub-contractor.
Due to current busy trading conditions, there are numerous tenders every month for the Estimating team to administer with further enquiries ongoing.
Experience and knowledges of the following estimating software packages a distinct advantage 'Conquest, Causeway, Coins, Cubit, Buildsoft or Costx'.
Ideal opportunity to join a very successful Estimating team with definite promotional prospects and career progression.
Planner:
Preparing and driving project plans/schedules of works/ programmes and reporting on / challenging sub-contractor programmes
Ensuring all project stakeholders adhere to agreed programmes
Addressing regular internal queries & collaboration with legal, commercial & other departments
Regular reporting on project progress to senior management team on a project basis
Liaising with key internal and external stakeholders
Experience/Qualifications
2+ years' experience in projects development across all stages of project life cycle – residential and commercial experience a must
Experience in working in a fast paced environment with multiple live projects
Strong communication skills and interpersonal skills with ability to lead and motivate key stakeholders
Attention to detail in reviewing plans, costs and reporting
Proficient in Microsoft Office and Asta Powerproject
Ability to work under pressure and to tight deadlines